Thought I'd post some pictures of the zip line tour.
But first let me give a shout out to Cypress Valley Canopy Tours. It was awesome and our guides were so cool! If you're ever in the Austin area, you should for sure check them out! http://www.cypressvalleycanopytours.com/
I had not been terribly anxious about going most of the day. But as soon as we got there I started to feel a bit of anxiety. We got harnessed up and then did a little training on ground level. So far so good.
Then we went to the first platform. My hands were shaking SO badly and my heart was pounding so hard, I thought I would start to hyperventilate. Then my mother asked if I was okay and I seriously almost cried. The guides asked if anybody was nervous and I readily raised my hand. I told them I was scared to death but that was exactly why I was there. So they made me go first. Lovely.
After the first zip was two back to back suspension bridges. The second one they asked us to walk backwards. My mother asked if I could go forwards. They said yes. I didn't want to. Ask my trainer Karen what happens if there is even the slightest suggestion I might fatigue before the end of the set. I'll be damned if I stop three reps short. Thanks Mom, but I'm going backwards. And I did. I even confessed to one of our guides, Katie, that I was working on confronting a lot of my fears, and shared my recent weight loss with her. She was very cool!
By the third zip my hands stopped shaking. It was actually a lot of fun!
So, here is the proof I did it! Those harnesses are NOT flattering. I look horrible. But I don't care!
Getting ready for the first zip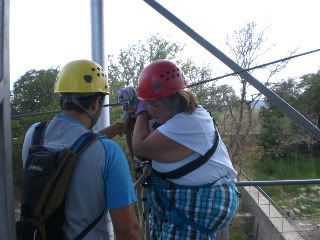 Off I go!
One of the suspension bridges:
It's hard to look pretty in a helmet when you're sweating your butt off!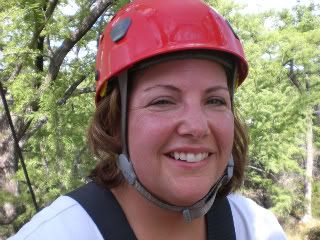 They call this one The Screamer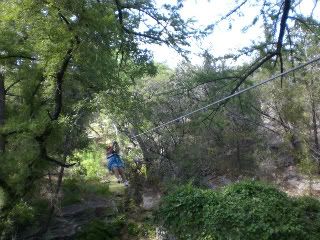 Look Ma, no hands! (stepping off the platform with only your toes remaining on and letting go (yes you're still tethered on!)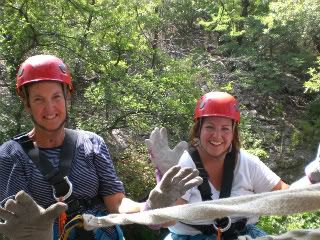 So there you have it. I did it, and it felt great!
Now if I can get my friends to rig up some kind of video surveillance I'll try to get proof of my next feat of bravery, actually saying "hello" to Cute Work Dude!