As of last Saturday's weigh in, I officially reached 100lbs lost. (Actually the total is 101.2, but who's counting?!!) I am now a member of the Century Club! So how do I feel having reached this milestone? I feel SO much better! Im happy, I'm moving easier, I'm more confident. I'm posting this a progress picture, but it's the same story as the last time...I still don't see a huge difference. Of course the starting picture wasn't full length, either.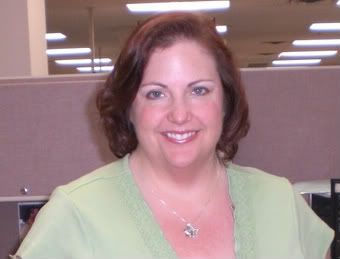 I'm also sharing pictures, with their permission, of course, of me with two people who have been such inspiration to me on this journey.
The picture below is me with my Weight Watchers meeting leader, Pam. Nothing is ever boring or dull in Pam's meetings. Her energy brings each topic to life, but with practical tools for putting the theories into practice. I always look forward to her meetings, she makes it fun!
And this picture is me with my personal trainer, Mari. Now it says something about the confidence I've gained that not only would I willingly have my picture taken, but to have it taken standing next to a 98lb soaking wet (if that) hard body who also happens to be gorgeous!
Mari is more than my trainer, she's my friend. I only have about a month left to work with her. While I will probably work with another trainer, there will never be another Mari!